The Surepulse insert and Surepulse liner combination is proven to improve teat condition and provide fast and smooth milking.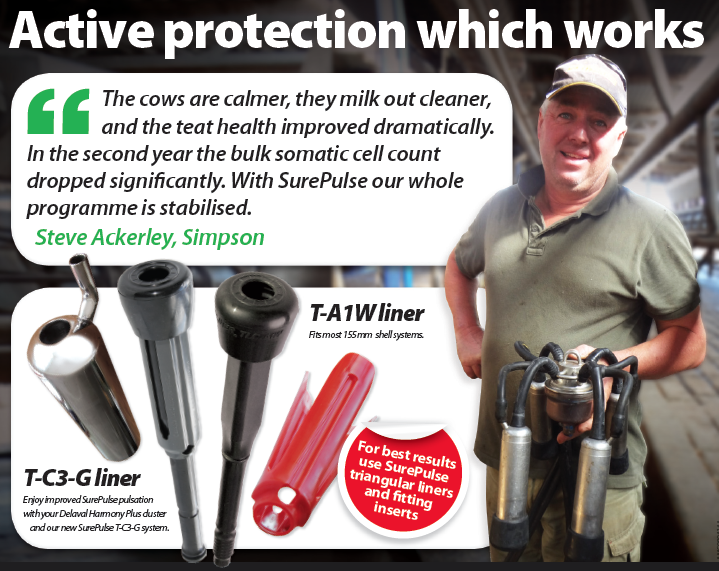 Click here to read Case Studies
Just ask the people using them
"The changes in cow behaviour, milking, and teat end condition were just amazing after some months of using the triangular liner and SurePulseTM Inserts."
Michael Rhodes, Veterinarian
"Always keen to try innovative products. We are very pleased with an improvement in teat end condition, markedly less mastitis and a lower cell count using SurePulse triangular liners and SurePulse inserts."
Leo Quintus, Kakaramea
milking 600 cows
"We didn't expect the effect to be so dramatic from the next day. Cows were quieter and milked freer, SCC dropped from 128k average to 66k using SurePulse. animal comfort was immediately evident."
P Marwood, Te Awamutu
"Our Somatic cell count has dropped and in part we attribute that to the Surepulse liner TLC and Sure Pulse inserts. The product does what it is said to do."
Dayne Plummer, Morrinsville
milking 320 cows
"Cows have been quieter in shed. Heifers haven't kicked the cups off and teat condition is great using the SurePulse triangular liners and SurePulse inserts."
Murray Young, Helensville
"Triangular Liners are a lot more comfortable to the cows. They improve teat condition and some cows milk quicker than before. I don't see red teats anymore. I recommend these liners to anybody. You don't realize unless you see it in front of your own eyes how well these liners work."
Stephen Ackerley, dairy farmer